Understanding Invoice Financing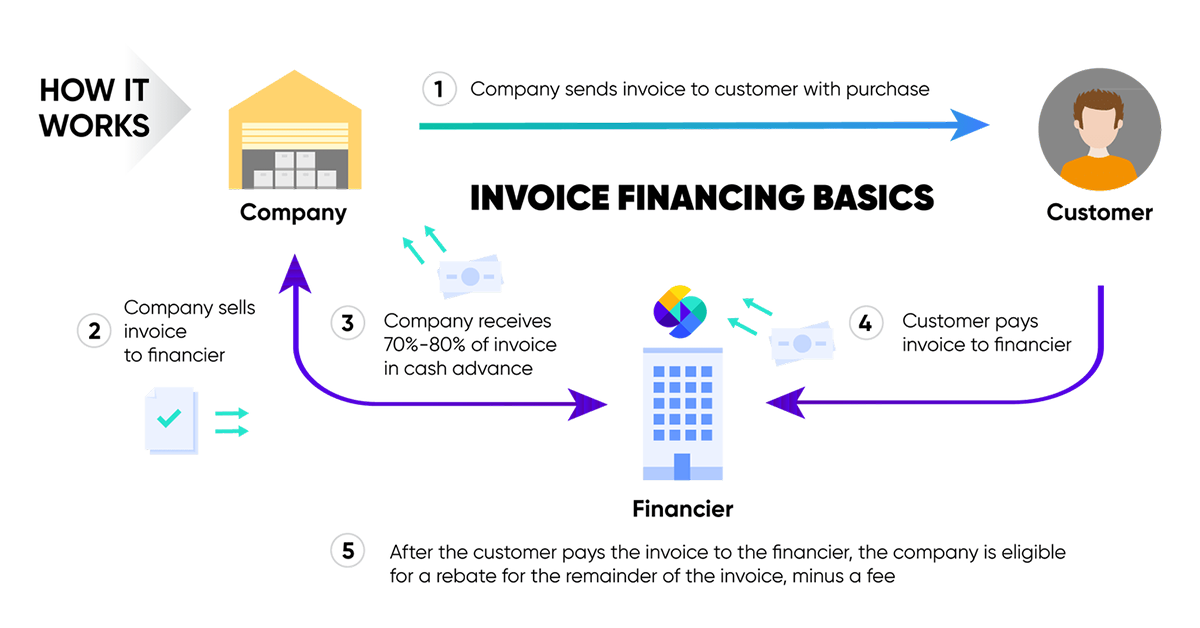 Invoice financing unlocks the cash trapped in invoices and brings essential liquidity to a business. Financiers pay a certain percentage of the invoice amount to businesses. The businesses repay the loaned amount from their accounts receivables plus a certain service fee while retaining the remaining percentage. They are short-term debts wherein the amounts receivables act as collateral.
Business-to-business commercial activities often happen on credit. Buyers generally do not need to pay then & there; the payment terms lay down a time period within which all payments need to be made. If working capital or cash flow issues arise during this period, companies may fail to pay bills and wages and run operations, let alone invest in growth.
Invoice financing companies can offer much respite in such difficult periods. They provide funding and short-term liquidity based on unpaid invoices. Invoice financing unlocks money stuck in credited invoices. Lenders offer a cash advance equal to a certain percentage of the total invoice amount, which businesses return plus certain processing fees. Such receivables financing provides immediate financing to meet short-term needs.
Types of Invoice Financing
There are two primary categories of invoice financing that a business owner can avail of: invoice discounting and invoice factoring. Both are based on the same principle but work slightly differently.
1. Invoice Factoring:
Invoice factoring involves seeking debt financing and acquiring working capital by selling their invoices to a third-party lender. The lender pays a percentage of the total amount on outstanding invoices. The lender or financier takes control of the business' sales ledger and collects payment on the unpaid invoices cashed.
2. Invoice Discounting:
More discreet than its counterpart, the business cashes in unpaid invoices from an invoice financing company but retains the right to collect payment from customers. The invoices remain on their sales ledger, and their payments are transferred to the invoice financing lenders.
Invoice Financing From the Lender's Perspective
Lending money based on authorised invoices is much safer for invoice finance providers than extending a line of credit. Unlike a line of credit, which may or may not be secured, invoice finance has the invoices as collateral or security. Furthermore, lenders only lend part of the invoice value at once, only a certain percentage. They also get a certain processing fee for services & in cases of invoice factoring, they take it upon themselves to acquire payments from customers.
There are considerable risks involved in invoice finance as well. The most significant threat is failed payments which may lead to costly collection processes as well as bankrupt & absconding customers.
How Invoice Financing is Structured?
The financial product in invoice finance operates via two distinct structures: invoice discounting and invoice factoring.
Businesses engaging in invoice factoring sell outstanding invoices to lenders for an upfront payment of 70% to 85% of the total invoice value. The invoice financing provider takes over the ownership of the invoices & collects all payments. The factoring company dispatches the remaining outstanding invoice value minus an interest or processing fee if all outstanding invoice payments are cleared. The downside of this method is that lenders collect what the customer pays, which may reflect poorly on the business's reputation.
The invoice discounting structure is similar to the above method; the only difference is that the business collects all the payments and pays back the lender when invoices are cleared.
How does Invoice Financing work?
The process is nothing too extensive & intricate.
Suppose you are a supplier with numerous outstanding invoices with payment terms having long due dates. Payments are still quite far away, but there's a lot of liquidity trapped in those invoices. It would help if you had some cash urgent for certain immediate expenses but had inadequate liquidity in hand.
Short-term borrowing from invoice financing companies is a great way to unlock those trapped finances.
Sell the invoices you want to finance to an invoice financing company of your choice.
The financing company reviews the invoices and disburses 70 to 85 percent of the total invoice value.
The financier then waits for customers to clear all payments.
If there are any delays, either the financier or the business engages in the collection per the agreement's structure.
Once all invoice payments are cleared, the lending company remits the rest of the invoice amount to the business while keeping a certain amount as interest and/or processing charges.
How much does Invoice Financing cost?
There are charges or interests levied upon the invoice amount borrowed. Financiers generally charge 2 to 3 per cent for every week their payment is due. The cost or charge depends upon invoice value, the due date of payments, the credit history of the business, etc.
What are the Advantages to Invoice Financing?
Gives your business quick cash- These are short-term borrowing avenues that lets businesses gain quick liquidity. Very flexible and secures cash flow as well.
Quicker turnaround- No asset collateral, no extensive paperwork necessary. All you need are your unpaid invoices to unlock the cash trapped in them.
No risk to assets- Invoice financing is an unsecured debt funding avenue and does not require the company's assets to be put up as collateral.
Boosts credit sales-  Any sales made on credit can be quickly turned into cash. This is highly beneficial for start-ups and smaller businesses.
Things To Consider
There are certain constraints and limitations to invoice finance avenues as well.
Your Customers will need to be Other Businesses– Most invoice financing providers offer short-term business loans on invoices only for B2B transactions. Your customers have to be businesses and not general customers.
Invoice factoring and client relationships– Invoice factoring has the financiers themselves collecting all outstanding payments since they become the owner of the invoices. This can have a detrimental impact on the business-client relationship.
Longer-term costs– The interest rates and processing costs/charges are generally quite high and can accrue high values if the due dates are long.
Selective Invoice Finance and Spot Factoring
There are two other distinct variations in invoice financing as well. One is selective invoice finance, and the other is spot factoring.
Selective invoice finance is when a business chooses which client account to finance. Usually, reliable customers who consistently make on-time payments are preferred. Selective invoice financing differs from typical invoice factoring or discounting as you preemptively select which client's invoices to cash in on before crafting the invoice.
Spot factoring is the same as selective invoice finance; the only difference is that businesses choose the invoices to cash in, not the clients.
Both are great ad-hoc approaches for small businesses to gain some quick liquidity.
An Example of Invoice Financing for Business
Say you are a supplier of building materials. Major projects are coming up, and you need to restock your inventories. However, you are low on liquidity and do not possess substantial working capital. You have a few major invoices for payment, but their due dates are still quite far away.
Let the total due invoice amount be Rs. 1000000. The payment term due date is too long, so you agree to an invoice financing deal that offers you 80% of the invoice up-front, with total charges and interests levied at 3% per week.
Here's the breakdown =
The total invoice value = Rs. 1000000, Amount paid upfront (80%) = Rs.800000, the fees (3%) = Rs. 30000 per week
You will receive the advance of Rs. 800000 within a few days. When customers clear the total invoice value, say in 2 weeks, the entire Rs. 1000000 goes to the lender. You get the remaining value of the invoice (Rs. 200000) minus the interests levied, which is equal to Rs. 60000 for two week payment period.
Focus on Invoice Financing for Small Business
For two key reasons, invoice financing has been under focus in small and medium business sectors.
The withdrawal of government support to the small and medium enterprises sector during the Covid-19 pandemic.
The ease of availing invoice funding through trade receivables via online platforms and the quick disbursal
Invoice financing is an excellent non-banking funding source for start-ups and up & coming MSMEs without extensive business or sales records. Before lenders advance a loan, current sales volume and substantial growth potential are factors.
Eligibility Criteria and Documents Required
Lenders will look into the following before paying business loans on your invoices:
The invoice details and the amount to be borrowed
The creditworthiness of the business
The business turnover
The client base of the business
The total outstanding value of unpaid invoices
The market presence and visibility of the business
And here are essential documents you will need while applying for loans based on your accounts receivables:
KYC documents
Business registration & incorporation, continuation documents, etc.
ITR and GST Returns
Bank statements for the last six months
Sales ledgers having records of the client invoices to be financed
Audited balance sheets, profit & loss statements, and other essential financials
Why choose Yubi?
Yubi is India's largest digital corporate lending solutions platform. We connect businesses with financiers, offering a feature-rich digital infrastructure for seamless communication, real-time monitoring, and automated match-making. Choose from a wide variety of short-term business loans, from bill discounting to a line of credit, and connect with 750+ leading banks & NBFCs across India to accelerate your business today.
Yubi employs state-of-the-art analytics and machine learning to make your financing journey simple & hassle-free. We will help you find the right lender for your business and offer crucial insights throughout the process.
Click here to learn more.
FAQs
Invoice financing is an excellent way to get quick cash if a business needs to boost its cash flow or needs urgent liquidity. It unlocks the cash trapped in unpaid invoices within 2 to 3 days.
An invoice financing provider levies interests/charges at about 2 to 3 per cent per week over the total invoice amount.
A company sells unpaid invoices to a financier who loans them a certain percentage of the total invoice amount. The financier or the company then collects payment on all those outstanding invoices. When all payments are cleared, the financier takes the entire payment cut and then remits the remaining percentage to be paid to the company minus a certain amount based on the interest charged.