Learn everything about the different sources of working capital and avail yourself of a wide array of working capital finance from leading lenders through Yubi, India's leading corporate debt platform. Share your business details to learn more.
What is Working Capital?
Working capital is the funding necessary for a company to carry out its daily operations without any hitches (let's cite examples). A consistently positive and permanent working capital is essential for a business to pay wages timely, meet utility & overhead expenses, maintain adequate inventory, etc. In addition, sufficient working capital indicates healthy liquidity and good short term financial health.
Sources of Working Capital
All sources of working capital can be classified into three particular categories.
1) Spontaneous Sources
Spontaneous working capital financing sources are those generated naturally from normal business activities such as goods and services availed at credit, trade credit from suppliers & creditors, accrued expenses, etc.
2) Short-term Sources
Short-term sources of working capital are generally short term loans from banks and NBFCs. There are different options for raising short-term capital, including short-term loans, overdrafts, etc. from commercial banks, invoice discounting, accrual accounts, etc.
3) Long-term Sources
These sources of working capital finance are available for longer periods and generally include long term loans, equities, debentures, and the like.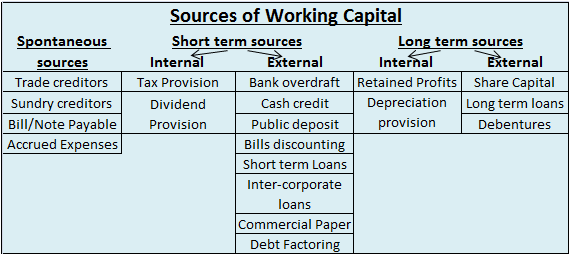 Spontaneous Sources of Working Capital
As the name suggests, spontaneous sources of working capital occur naturally from day-to-day business activities.
Trade Credit: The most common way to raise funds for the short term, trade credit is the credit extended by suppliers, wholesalers, distributors, resellers, etc.
Sundry Creditors: They offer services and goods to businesses in credit. While they are liabilities, sundry creditors are also excellent sources of working capital finance.
Bills Payable: Bills payable are records of deferred payments for the goods and services that a company buys on credit.
Notes Payable: These records of payments that a business promises to make within a specific date are also good sources of working capital.
Accrued Expenses: Expenditures that have been accrued but whose payments are yet to be made can also be great sources of working capital.
Short-Term Sources of Working Capital
Short-term finance for working capital com with tenures of one year or less. The most prominent sources include the following.
Loans from Commercial Banks
Varied business loan schemes are available from major private and public commercial banks across India.
Straight Loans- Also known as term loans, these sources of working capital finance involve a straight-up lump-sum payment to businesses at an interest.
Cash Credit- Similar to a line of credit, these short-term sources of working capital can be secured or unsecured, have maximum repayment tenure of 1 year, and allow businesses to borrow amounts up to a specific limit.
Hypothecation Advances- Businesses put up an asset or stocks as security for a loan in these sources of working capital. However, the said asset is still under the business's possession and can be used as necessary.
Pledge Loans- They are secure working capital sources similar to hypothecation advances. However, the collateral or security pledged can only be used once the debt has been cleared.
Overdraft Facility- A bank overdraft allows businesses to overdraw their current account. It is a common source of working capital finance for companies.
Bill Financing- Bill financing helps businesses raise money using outstanding invoices of transactions already made. This is a great way to unlock the credit stuck in the supply chain.
For this particular source of working capital finance, a business can invite the public to make short term deposits for a high rate of return. According to the Reserve Bank of India, companies can raise to 35% of their paid-up capital or the money received from selling stocks.
Businesses with good financial standing & reputation can buy raw materials and supplies from vendors on credit. Deferred payments can be considered sources of working capital finance as vendors allow businesses 3 to 6 months to clear outstanding payments.
For these sources of working capital, outstanding invoices are sold at a discount to financial institutions that disburse a certain percentage of the invoice amount, helping businesses meet their temporary working capital needs.
One of the most common sources of working capital finance is getting an advance from customers. A business can ask a buyer to pay a certain amount upfront and use it to meet different working capital requirements.
A short term or working capital loan comes with high-interest rates but offers substantial repayment flexibility.
Commercial papers are debt instruments issued on the money market by businesses looking to meet their short-term financial requirements.
Vendor financing, also known as trade credit, is a line of credit extended by a vendor to a business that uses it to buy the vendor's supplies. They can then repay the vendor after earning from their sales.
Long-Term Sources of Working Capital
Long-term sources of working capital come with tenures of more than one year and include the following:
The total amount of capital a company possesses by selling its shares is among the primary external sources of working capital finance.
Banks and NBFCs offer long-term loans to businesses with repayment tenures of 7 years. However, due to long tenures, they are not considered ideal sources of working capital financing.
Debentures are unsecured long-term debt instruments issued by companies with a solid financial reputation. The company is obligated to pay interest to the lender no matter the circumstances.
Businesses can also issue equity funds, a type of mutual fund where investors put their money indirectly into the business's stocks.
Sources of Working Capital for Small Business
SMEs and start-ups' lack of credit history limits their working capital sources.
Vendor financing and trade credit are two of the best sources of working capital for small businesses. The credit period offered, the discount on purchases and the funding provided can help small companies build their working capital.
Working Capital Loans from Traditional Lenders
Numerous banks and NBFCs across India offer working capital loans to SMEs. A good repayment history and creditworthiness can help businesses avail better loan terms.
FAQs:
What is working capital?
It is the part of a business's capital that is necessary to meet all day-to-day requirements.
What are the types of working capital?
Working capital can be categorized into two primary categories: Gross working capital, the total sum invested in current assets, and Net working capital, which is the surplus calculated after deducting all current liabilities from current assets.
What are the four main components of working capital?
The four main components of working capital are accounts payable, accounts receivable, inventories, and cash & cash equivalent.
What are the two primary sources of working capital?
The two main sources of working capital are internal and external sources.